A 15-mile stretch of Interstate 90 just east of Snoqualmie Pass is due for an upgrade. Deteriorated pavement, congestion, substandard curves, exposure to avalanches, and collisions with wildlife pose risks to safety and reduce transportation efficiency.  This stretch of highway is the transportation lifeline for freight and traffic connecting our state east to west.
The same stretch of freeway bisects an area that US Forest Service biologists have long recognized as "a critical connective link in the north-south movement of [wildlife] in the Cascade Range".  Washington State citizens and the United States Congress have invested over $100 million in recent decades acquiring and protecting nearly 100,000 acres of habitat to maintain and restore wildlife's ability to move through and live within this landscape.
These two important corridors, an east-west transportation corridor and north-south wildlife corridor, intersect in what is known as the I-90 corridor.  Its in this special landscape where the Washington State Department of Transportation (WSDOT) finalized a design to expand I-90 between Hyak and Easton called the I-90 Snoqualmie Pass East Project. The environmental impact statement is complete, and funding has been committed by the Washington State legislature for construction of the entire 15-mile project.  Learn more about project funding.
Phase 1 and Phase 2A are currently under construction, and to be completed by 2019.  Phase 1 includes two wildlife underpasses at Gold Creek that not only benefits terrestrial wildlife in the area, but the species living with the creek itself including a resident population of bull trout.  Phase 2A includes the construction of the first wildlife overpass at near Price and Noble creeks.  Click here to view a list of wildlife species that will benefit from the overpass once constructed.
The Coalition supports this project because it provides wildlife passage of the highest standard in this critical habitat bottleneck, making the roadway safer for motorists and wildlife.
Benefits of the I-90 Hyak to Easton Project
Efficiency
On average, 27,000 vehicles a day go over Snoqualmie Pass, many of them semi-trucks. Demand is expected to increase steadily over the next 20 years. WSDOT proposes widening the highway from four lanes to six to increase capacity.
The project will also eliminate road closures for avalanche control. It's estimated that for every 24 hours the pass is closed, the state economy loses $16 million.
Freight mobility will improve with longer truck climbing lanes.
Safety
In addition to reducing risk from snow avalanches that close the interstate each winter , the project will reduce the risk of falling rocks and debris from reaching the highway.
Sight distance will improve as curves are straightened.
Wildlife passage structures will reduce collisions between vehicles and animals crossing the freeway.
Wildlife Connections
Improving wildlife connectivity is one of WSDOT's stated goals for this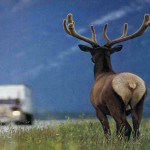 project, which can complement past and ongoing efforts to protect wildlife corridors in Washington's Central Cascades. This project can:
Allow large and small wildlife to safely move from one side of I-90 to the other by strategically elevating the freeway, installing larger culverts, and building bridges.
Help keep Cascades wildlife populations genetically viable by allowing genetic exchange. Larger populations of species are more resilient and allow wildlife and land managers greater flexibility.
Dovetail with recent, major land acquisition efforts (e.g., the I-90 Land Exchange of 1999 followed by a $70 million investment of private and public funds).
Mitigate I-90's impact to wetlands in the project area and improve function of the upper Yakima River system.
WSDOT Contact Information
Brian White, Project Director
PO Box 12560, Yakima WA 98909-2560
1-888-535-0738
I90Snoq@wsdot.wa.gov
Project Website:  http://www.wsdot.wa.gov/projects/i90/snoqualmiepasseast