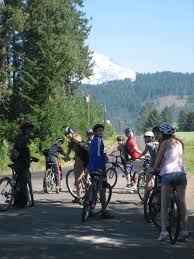 Kicking off the new year the Cascade Mountain Institute has offered additional incentives for statewide highschool juniors and seniors to enter our 2014 Bridging Futures Scholarship contest – a free week of exploration and learning at Mount Hood.  As we announced in December, our 2014 scholarship contest co-hosted with the Washington Department of Transportation asks students to bring their ideas to solving a need to create safer passage for motorists and wildlife just east of Snoqualmie Pass on Interstate 90.  The winner of this contest will receive a $1500 scholarship award for higher education, as well as a complimentary course to experience the outdoors while learning through Cascade Mountain School.  The runner up this year will receive a $500 scholarship award.
The Cascade Mountain School, a project of the Mt. Adams Institute, believes students should be given a real-world context for their learning and be pushed to analyze and synthesize information to understand the world around them. They offer a dynamic learning environment, one in which senses are enlivened and academics become relevant to daily life.  The Mount Hood Mountain to Mouth Camp runs July 20-25, 2014 and combines science learning with outdoor adventure.  it provides everything you would want in a summertime excursion: backpacking, biking, kayaking, and traveling on snow and ice.  It starts at close to 8,000 feet on Mt. Hood and attendees make their way downstream to the Columbia River through the Hood River Valley. Along the way attendees will meet with local stakeholders and scientists to investigate glaciers, climate change, fisheries, and conservation. If the Bridging Futures contest winner is unable to attend the Mt Hood Mountain to Mouth Camp week, they can work with the Cascade Mountain Institute to arrange attending another program as possible at a comparable cost.
Cascade Mountain School Director, Emily Goodwin, is "thrilled to partner with the I-90 Wildlife Bridges Competition and offer this year's winner a week of experiential science and multi-sport outdoor adventure around Mt. Hood.  We can't wait to meet this year's winner!  The type of students who are inspired to create solutions to our most pressing environmental problems are just the type of students who thrive at Cascade Mountain School, an outdoor summer science program based in the Columbia Gorge."
So, if you or your students were waiting for one more reason to create solutions to an important wildlife and transportation issue in our state – it has arrived.  Learn more about the contest and view resources to help in preparing your entry.  Entries must be postmarked by May 2, 2014.